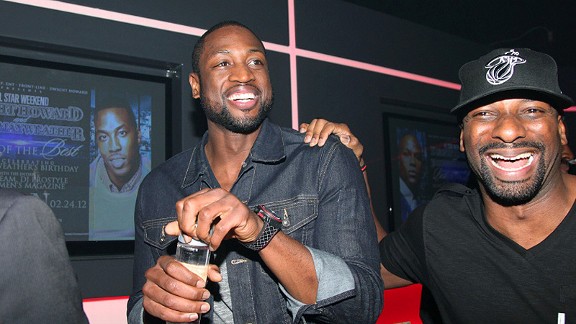 Courtesy of NikeDwyane Wade shows up for his All-Star Weekend party in Orlando after helping the Heat win in Miami.
ORLANDO, Fla. -- NBA All-Star weekend is in full effect.
Hoops fans filtered the streets on Thursday night to gawk at celebrities, shell out big bucks and party until the cops on the horses told them they needed to head home.
You favorite Page 2 partiers stopped by the first soiree of the week to see whether it'd be an indication of what's to come this weekend. Survey says: We think so.
The Fifth Annual Dwyane Wade All-Star Party
Why that title: The Miami Heat star left after his Thursday night game and made it to Orlando to party with his fans and contemporaries. Right before 1 in the morning, the DJ announced that Wade was on his way, and the folks couldn't be happier that one of their favorite hoops stars was almost in the building.
When and where: VAiN in downtown Orlando. It's one of these deceiving clubs. It's way bigger than it looks at first glance. There are all types of nooks and VIP crannies in this club. There's a top-floor open-air deck, a small VIP room on the bottom floor and, for the guys who like to flaunt the fact that they can foot the bill for bottle service, there are plenty of VIP stations in the center of the club's main floor.
Performers: An awesome DJ who knew how to cater to his crowd kept folks entertained until the wee hours. Pretty much the same music that the boys on the court warm up to -- and the same music that sets our hip-hop-loving hearts afire -- was spun at this event. And perhaps one of the gnarliest things we've ever seen at a party happened here -- a pair of stilts-wearing go-go dancers got the party started on the dance floor. They easily stood a good 10 feet tall. The better to spot NBA stars, we're guessing.
Celebrities we saw: Boris Kodjoe circulated the space -- and the women at this party could not have cared less about who else was there. Others in attendance included Wade and his friends.
Food and drink: We saw some whipped cream-topped strawberries being passed around. But pretend ballers beware: This was no open bar event at all -- a Red Bull and vodka cost $18. Ouch.
Swag: If you were lucky -- and rich enough -- to get a seat in the center VIP area, you walked away with some super cool D. Wade sunglasses that light up. All of the cool kids were wearing them on Thursday night.
All-Star Rating: Three clementines. The party was sweet like this seedless piece of citrus, and it had a smooth, glossy appearance. This event set the tone -- we're thinking -- for much of the fashion that we'll see this week: barely there, move-something dresses for the ladies and crisp white T-shirts paired with a shiny piece of bling for the menfolk. It was hard to tell who was an actual baller -- as in someone who plays hoops for a living -- and who just lives the dream.