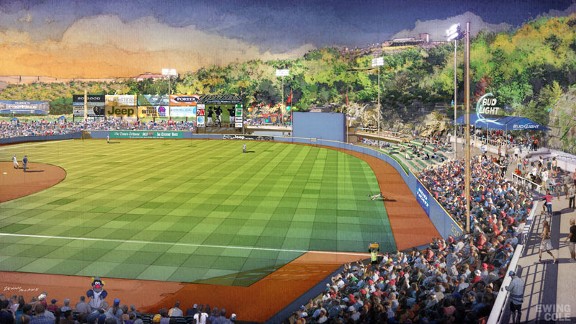 Scranton/Wilkes-Barre Yankees This rendering offers a glimpse of what remodeled PNC Field in Moosic, Pa., will look like in 2013.
The Triple-A affiliate of the New York Yankees is preparing to embark on a highly unusual season.
The Scranton/Wilkes-Barre Yankees are in an unusual situation in 2012 while their home stadium, PNC Field in Moosic, Pa., undergoes a $40 million renovation. The team originally considered playing the season in Newark, N.J., but the New York Mets quashed that idea by exercising territorial rights.
So the Triple-A Yankees had to get creative to plot a course for their 72 home games, and the solution is to distribute the contests among six cities.
That's right. The SWB Yankees will be playing home games in four different upstate New York locales -- Rochester (37 games), Syracuse (10), Batavia (seven) and Buffalo (six) -- as well as Allentown, Pa. (eight) and Pawtucket, R.I. (four). On the bright side, the team will play 52 total games in the Rochester area, including eight "road" games against the Rochester Red Wings and seven more in nearby Batavia.

"The intent in Rochester is to make it as much of a home as we can," said Art Matin, CEO of Mandalay Baseball, which owns and operates the SWB Yankees. "The club has come up with a temporary moniker for the team -- the Empire State Yankees. We're doing everything collectively that we can to make it feel like home for a year, and we certainly expect the fans to come out and see the future Yankee stars. ... We're looking forward to it. I expect Rochester and Batavia will feel very much like home crowds."
That won't be the case in Pawtucket, which sits squarely in Red Sox Nation and is home to Boston's Triple-A affiliate.
"Realistically, for the players, that will feel like a road game where we just happen to be batting last," Matin said.
The payoff comes next year when the SWB Yankees move into a remodeled PNC Field, which will no longer resemble a multipurpose stadium in the style of dearly departed Veterans Stadium and Three Rivers Stadium. Refurbishing the existing venue instead of building a new one from scratch will allow the team to take advantage of the current location while also saving upward of $10 million.
"The setting is really spectacular. We're right up against the base of a mountain," Matin said. "One of the key features that the architect has worked into [the design] is a full, 360-degree concourse, where you're actually almost weaving through the natural beauty beyond the outfield."
So the biggest question for the Yankees heading into the new ballpark seems fairly obvious: Will Dunder Mifflin renew its luxury suite in 2013?
"We're working on that now," Matin said. "We're trying to track down Steve Carell as we speak."