Grandfatherly marshmallow golem Don Zimmer has always been among the cuddliest of baseball figures, but the Tampa Bay Rays might've taken that cuddliness a little too far. The team's promotional giveaway schedule for the 2012 season includes the Zim Bear, a plush teddy bear with an ursine body and Zimmer's rosy visage.
The Zim Bear will be given away on June 29 at Tropicana Field, when the Rays play host to Detroit. The Rays also have seven bobblehead giveaways and an Evan Longoria mini drum set on this season's promotional schedule.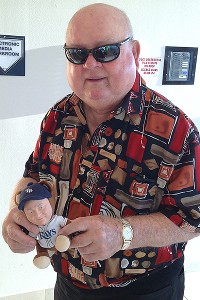 Tampa Bay Rays Don Zimmer holds the amazingly awesome Zim Bear at Rays camp in Port Charlotte, Fla., on Friday.
But let's get back to the Zim Bear. What says marketing brilliance better than the twisted hybrid of an octogenarian and an apex predator? That's right: nothing. Even though your gut reaction might be to blast the Zim Bear with pepper spray instead of embracing it while drifting off to sleep, you can't deny that tender moments are ultimately inevitable.
Little Girl: "Good night, Zim Bear. I love you!"
Zim Bear: "WHERE DOES A GUY GET SOME TUMS AROUND HERE? FEELS LIKE I SWALLOWED A STOGIE!"
These kinds of awesome promotions are usually put on by minor league teams, who more frequently depend on gimmickry to compensate for the fact that the games are kind of crappy. Some memorable promotions in recent years include:
Toilet Seat Night, where the first 3,000 Hudson Valley Renegades fans received an inflatable toilet seat.

The St. Paul (Minn.) Saints hosted a Larry Craig "bobblefoot" day to commemorate the disgraced senator's ... umm ... bathroom habits.

The Altoona (Pa.) Curve treated fans to a Salute to Frivolous Lawsuits Night, where giveaways included scald-free lukewarm coffee and beach balls containing warnings about accidental ingestion.

The Fort Myers (Fla.) Miracle handed out plastic ears to poke fun at Mike Tyson and his favorite food group.

And the Fullerton (Calif.) Flyers of the now-defunct Golden Baseball League took a shot at steroid vessel Jose Canseco by giving away juice boxes when he came to town with his minor league team.