For the first time in Sprite Slam Dunk Contest history, fans have the power.
That's right. Spectators home and in-arena will decide the winner -- all part of the most socially connected All-Star Weekend yet.
Here are the three options to cast Dunk Contest votes:
1. Tweeting the hashtag #SpriteSlam along with a letter corresponding to their favorite dunker
2. Through SMS text message
3. At the NBA.com website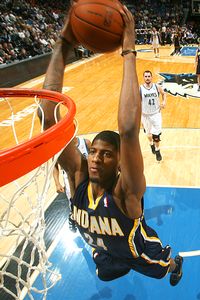 David Sherman/NBAE/Getty ImagesWhat dunks do you want Paul George to do? Tweet him!
Meanwhile, Paul George of the Indiana Pacers even invited fans to submit dunk ideas to him via Twitter (@King24George). He and Minnesota Timberwolves rookie Derrick Williams (@RealDWill7), the Houston Rockets' Chase Budinger (@CBudinger) and Jeremy Evans (@JeremyEvans40) from the Utah Jazz, all will be live tweeting throughout the contest … similar to how NHL and NFL players live tweeted during the All-Star Skills competition and Pro Bowl, respectively.
But that's not the only way fans can connect. Here are some other possibilities:
• The NBA is partnering with the Facebook app Shaker to create an online hangout with fellow hoops fans.
• Those planning to only be by your phone this weekend can use the NBA's GameTime mobile app to watch 90-plus hours of on and off-court video content.
• A return guest to the All-Star weekend party is the All-Star Pulse feature. This allows you to easily follow trending topics on Facebook and Twitter before, during & after the events.
• The new "Social Spotlight" is worth a try. This app will showcase top tweets, photos and videos from fans directly on NBA.com.
• For behind-the-scenes NBA Twitter coverage this weekend, these accounts will keep you not only informed, but also entertained.
• The whole weekend will have hashtags galore. On Friday, the Rising Stars game is #BBVARisingStars, with individual squads offering #TeamShaq and #TeamChuck. For the Celebrity All-Star Game, it's #SprintCeleb.