Harlem Globetrotters guard Herbert "Flight Time" Lang is ready to do some reality show lobbying.
"I'd really like to do 'Dancing with the Stars,'" Lang said while touring ESPN's Connecticut campus this week. "I think I can get down a little bit. I have some pretty good moves."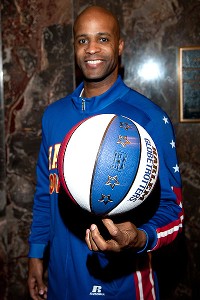 Getty ImagesThe 6-foot-3 Flight Time earned his nickname when he dunked when he was 5-foot-10.
Lang is no stranger to reality TV.
The former basketball star of Centenary College in Louisiana appeared on two seasons of "The Amazing Race," including a runner-up spot in the 11-team field in Season 18. He's been on "Hell's Kitchen," "The Bachelorette," "The Price is Right" and "Are you Smarter Than a 5th Grader?" On that quiz show, he answered every question correctly.
Lang, who has been with the Globetrotters for about 13 years, is happy to make appearances promoting the team, which has been around more than 80 years.
"Back in the day of Curly Neal, when the Globetrotters were in the height of their popularity, there were just three TV stations," said the 35-year-old Lang, who earned his nickname when he was 5-foot-10 and could dunk. "So we're doing everything we can today to make them relevant again."
Lang grew up in Brinkley, Ark., before heading to college in Louisiana. He was a first-team all-conference selection and a conference scoring champ at Centenary, and he won the 1998 National Association of Basketball Coaches slam dunk contest. That caught the eye of the Globetrotters, and he's been with the team ever since.
When Lang goes on reality shows, he said he's there to have a good time -- and win.
"I'm really competitive, and there is no way to edit around that," Lang said. "So, ABC, team me with someone good for 'Dancing.' I want to get my boogie on."
This is a big weekend for the Harlem Globetrotters, as ESPN, at 9:30 p.m. ET Sunday, is broadcasting a documentary about Goose Givens to celebrate Black History Month. Here's the preview clip: