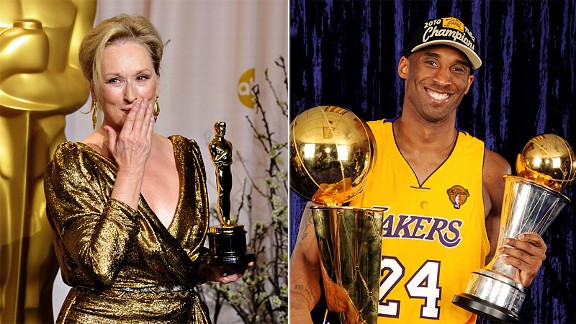 Getty ImagesMeryl Streep and Kobe Bryant: Titans of SoCal, winners of titles and awards, defiers of age.
We had the good fortune of witnessing Kobe Bryant and Meryl Streep create history on Sunday.
Kobe Bryant now has 271 career All-Star points. He passed the legendary icon Michael Jordan (262 points) in the process. Streep along with winning her third Oscar has received 17 Academy Award nominations, the most in cinema history for any actor or actress.
These are two all-time greats in their respective profession. It truly begs the question, is Kobe Bryant the Meryl Streep of the NBA?
AWARDS IN A STARRING ROLE
2: Bryant has won two NBA Finals MVP awards
2: Streep has won two Oscars for Best Performance by an Actress in a Leading Role
TITLES EARLY ON
3: Bryant won three NBA titles in his first nine years in the league.
3: Streep acted in three movies that won Best Picture in her first nine years (since making her film debut in 1977 with Julia). The selections were Deer Hunter in 1978, Kramer vs. Kramer in 1979 and Out of Africa in 1985.
ALL-TIME GREATNESS
13: If you combine Kobe's totals with respect to regular season, all-star game and finals MVP awards, along with his five titles and gold medal, all those titles and awards add up to 13.
13: Streep has 13 combined Oscar, SAG and Golden Globe awards.
YOUTH IS NOT SERVED
• At 28.4 points per contest this season, Kobe is on pace to lead the league in scoring for a third time. Last year's scoring champion (Kevin Durant) was in his fourth season.
• Streep won her third Academy award at the age of 62. Natalie Portman, the previous winner was just 29.
FIRST TITLE CAME IN A SUPPORTING ROLE
• Bryant won his first NBA championship as a supporting proponent to the MVP of the 2000 NBA Finals (Shaquille O'Neal).
• Streep won her first Academy Award as a supporting actress (Kramer vs. Kramer, 1979). Dustin Hoffman took home the award in a leading role for his part in Kramer vs. Kramer.