What are we to make of hearing that Premier League soccer team Aston Villa is reporting a record loss of $85 million from last season?
Our first reaction: Wow, someone ordered WAAAAAAAAAAY too many shin guards.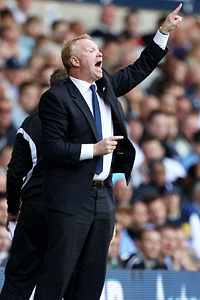 Julian Finney/Getty ImagesAston Villa manager Alex McLeish was hoping/told to pick up some tips from Cleveland Browns coach Pat Shurmur.
Geez, a record loss for a team founded in 1874. Then again, in 1874, $85 million could have bought you dozens of luxury castles in the English countryside, all with heated moats.
The first rule of investigative journalism is "follow the money." And when we learned that the owner of Aston Villa since 2006 is Randy Lerner, the same guy who owns the Cleveland Browns, we were shocked. That is, shocked that Aston Villa is only down $85 million and not $185 million or $850 million.
Not that Lerner hasn't been actively involved (aka micromanaging) in trying to improve things for the EPL's Villans. Why, in mid-February, Aston Villa manager Alex McLeish, staring down the prospect of relegation, was asked (or ordered, as per this Daily Mail article) by Lerner to cross the pond and job-shadow Cleveland Browns coach Pat Shurmur. You know, to tap into all the expertise that comes from one whole season at the helm of a 4-12 ship.
The only way that job-shadow setup would make sense is if McLeish was asked/ordered to hang out with the former coach of the Cleveland Browns, Bill Belichick. Maybe something was lost in translation.
Hey, wait a minute: Maybe this explains the speculation that the Browns are jockeying to trade up for the Rams' No. 2 pick in the NFL draft to get Robert Griffin III. Lerner does want RG3 for his incredible athleticism, but not to throw footballs to Mohamed Massaquoi. Lerner sees a game-changing midfielder who can get the futbol to Darren Bent.
Attention, journalism schools: When hitting a dead end while following the money, your next step is to follow the draft picks. Case closed.