Michael Jordan's Highland Park, Ill., estate is up for sale for $29 million. Is it worth the investment? Let's take a look.
• The home has 15 full bathrooms and four half baths. The current owner will be taking his half mustache with him.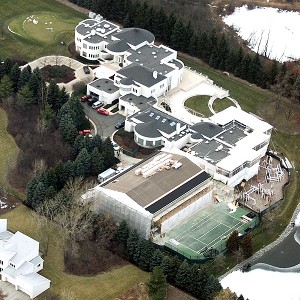 AP Photo/Ted S. WarrenMichael Jordan's palatial home in suburban Chicago can be yours for the low, low price of $29 million.
• The home was constructed from 1993-95 and has a decidedly dated look. While a negative for many, this can be a positive if your wardrobe still consists of hoop earrings and baggy jeans, giving the property a sort of stuck-in-time look, a la Colonial Williamsburg.
• The home has nine bedrooms, ranging in size from a 21 feet by 24 feet master bedroom to a small 9-by-13 room, which could easily be transformed into a Charlotte Bobcats trophy room with space to spare.
• The home includes a full basketball court. The buyer will obviously be able to use the court. Similarly, if you buy Michelangelo's old canvases, you can doodle on them with crayons. But should you? No.
• In addition to the $29 million asking price, there are property taxes of $165,300 a year and an insurance price tag of $145,000 annually -- or approximately one good night in Vegas.
• The front gate has a large "23" on it, which would have to be removed by the owner, although 23 could be a meaningful number for anyone. For example, to purchase this home, you might have to have 23 jobs and take out 23 mortgages.