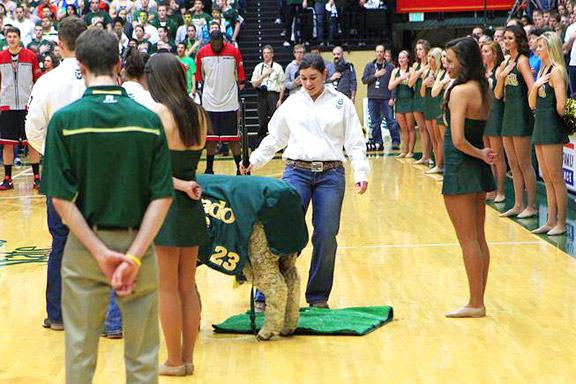 Sam Morris / Las Vegas Sun Colorado State's Cam the Ram got a wee bit excited before Wednesday's home game against UNLV.
Colorado State emphatically bolstered its case for selection to the NCAA tournament with a 66-59 upset win Wednesday at home against No. 17 UNLV.
The Rams rallied from a 16-point deficit in the second half, whipping the fans at Moby Arena into a frenzy. But the excitement in the building was palpable long before that, as evidenced by CSU's mascot, Cam the Ram, who urinated on the court during the pregame playing of the national anthem.
The aftermath of the moment was captured by Las Vegas Sun photographer Sam Morris, who said it was among the wackiest things he's shot during two decades in the business.
"I gotta say it's probably in the top 10," Morris told Page 2.
Be sure to check out the facial expressions on the witnesses in the photo. A couple of them are priceless.
Of course, these things can happen when animals attend sporting events. But it beats the alternative. Just ask Cubs fans what happens when a team bans livestock from the venue.