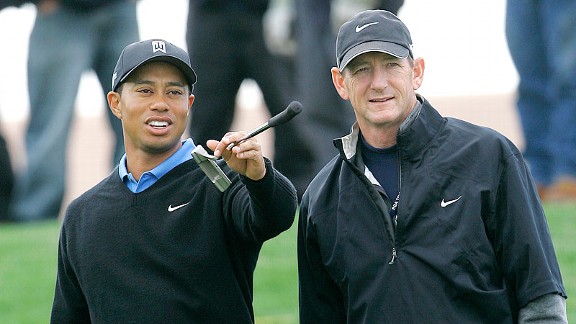 AP Photo/Lenny IgnelziTiger Woods and Hank Haney share a laugh -- likely at the expense of Phil Mickelson -- in 2007.
There's a good bit of buzz preceding "The Big Miss," a tell-all book by Tiger Woods' former swing coach, Hank Haney, about his years working with the Buick Invitational champion. Turning the most heads is the assertion that Woods was once fixated with becoming a Navy SEAL -- a claim that Woods' camp has since denied.
Page 2's secret connection in Amazon.com's Munster, Ind., warehouse slipped us an advance copy of the book on the sly (thanks, Darrell!), and we've put together an exclusive list of some of the book's most telling revelations:
• The "big miss" in the title refers to a time when Woods stood next to Jack Nicklaus at a urinal.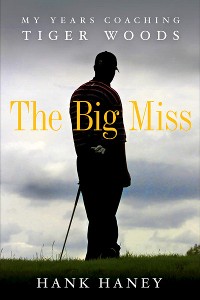 AP PhotoPage 2's dubious network of sources uncovers shocking revelations from Haney's
upcoming book "The Big Miss."
• Woods has earned a reputation among other golfers as something of a diva for employing a professional handler to tote around his bags and clubs while on the course.
• On his supreme ability to putt under pressure, Woods said: "I'm just swinging metal things around on nice grass. Squirrels do more constructive things all the time. Lighten up."
• Woods would demand that all his friends and associates call his then-wife Elin Nordegren "The Tigress."
• Woods struck up his much-publicized friendship with Roger Federer in 2006 when neither of them could get a vending machine to accept a $1 million check.
• Woods suffers from a mild case of color-blindness, which once caused him to return a charcoal Brooks Brothers blazer to Augusta instead of the legendary green jacket.
• Woods' reported interest in joining the Navy SEALs quickly dissipated when he learned he couldn't wear a nose plug in the water during training.
• Woods carried out illicit affairs with a number of different sports drinks, culminating in 2009 when his Gatorade rep caught him chugging a bottle of VitaminWater in the backseat of a 1991 Chrysler LeBaron.
• Unbeknownst to only his closest confidants, Tiger is actually pronounced with a soft G.
• Haney ended his professional relationship with Woods in 2010 after deciding that he could no longer tolerate being paid in red polo shirts.