Welcome back to another edition of Page 2 Jeopardy!, the quiz that tests your knowledge of sports, pop culture and assorted trivia. Please remember to phrase your responses in the form of a question.
(Correct questions at the end of the quiz.)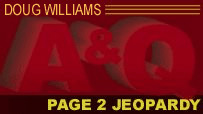 1. Answer: This third-year NBA guard says he introduced himself to his girlfriend, 2006 Miss Universe Zuleyka Rivera of Puerto Rico, via text message.
2. Answer: This former Baltimore Ravens cheerleader got plenty of camera time during the Academy Awards telecast while sitting next to boyfriend George Clooney.
3. Answer: This young National League outfielder, who has already has 56 homers by the age of 22, now wants to be known by his actual first name of Giancarlo instead of Mike.
4. Answer: In 2003 pre-draft workouts for NFL scouts, this quarterback threw passes through the goalposts from the 50-yard line while on his knees, prompting one NFL coach to say, "This kid has it all. He has all the measurables."
5. Answer: This 6-foot-5 forward leads the nation in scoring at 28.3 points per game, and recently attracted the attention of Vice President Joe Biden, who came to watch one of her games for his alma mater.
Question 1: Who is J.J. Barea?
Question 2: Who is Stacy Keibler?
Question 3: Who is Giancarlo Cruz Michael Stanton?
Question 4: Who is Kyle Boller?
Question 5: Who is Delaware's Elena Delle Donne?