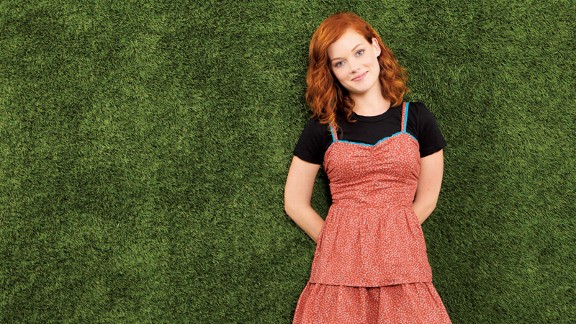 Courtesy of ABCBefore her breakout role on ABC's hit sitcom "Suburgatory," Jane Levy was a star soccer player for Sir Francis Drake (Marin County, Calif.) High and Goucher College.
Like many suburban kids, Jane Levy began playing soccer at age 5 because, well, that's what Mom signed her up for. But the star of ABC's new hit "Suburgatory" -- who also just landed the lead female role in the "Evil Dead" film remake -- got such a kick out of the sport that she continued to play it into college. Manning everything from defender to forward (for two minutes) to right midfielder, Jane competed for both a club team (Novato) and Sir Francis Drake (Marin County, Calif.) High, where she was named captain her senior year. She made varsity at Division III Goucher College in Baltimore, but left before her sophomore season to pursue acting in New York. Though she hasn't set foot on a checkered ball since, the 23-year-old channels her soccer days to be a team player on the set. --Interview by Cristina Goyanes
ESPNHS: Was there a point in your life, before you started acting, that you thought you could reach the highest level of soccer?
Jane Levy: I wasn't naturally talented, but I worked so hard and committed myself 100 percent. I enjoyed the process of training, learning and hanging out with my teammates.
ESPNHS: Did you attend soccer camp?
JL: Yes, a two-week camp. I miss the smell of freshly cut grass and being up too early. It was such a fun time.
ESPNHS: Do you play anymore?
JL: I completely stopped when I left college at 18. I had a good run and learned a lot. It might sound cliché, but being a team player [helps you understand that you're] just one piece of a huge puzzle. Its not all about you. That has helped me in everything I do.