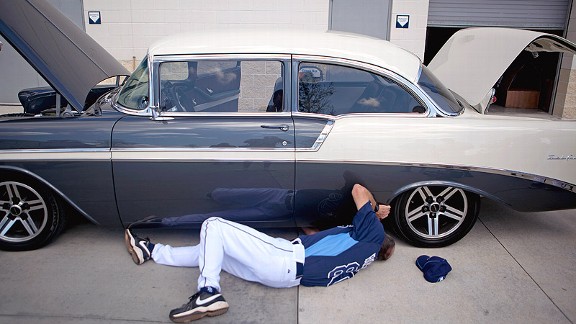 AP Photo/David GoldmanApparently Tampa Bay Rays pitching coordinator Dick Bosman couldn't fix what still ails manager Joe Maddon's 1956 Chevy BelAir.
As a reward for his recent contract extension, Tampa Bay Rays manager Joe Maddon reportedly got himself a pretty sweet ride: a 1956 Chevy BelAir which, according to Marc Topkin of the Tampa Bay Times, was bought and restored in Arizona and shipped the Rays' spring training facility in Port Charlotte, Fla.
But there's drama! As Topkin reports Sunday, the BelAir (brakes) remains one of Tampa Bay's key injury absences early in the exhibition season:
"The BelAir is not ready," Maddon said, according to the report. "It's like some of the guys in spring training, we're going to have to take our time with it. … It's day to day."
No word on whether the Yankees and Red Sox will respond by buying all the other cars everywhere.