If you want an autographed baseball card of Texas Rangers pitcher Yu Darvish, there will be only one place to look.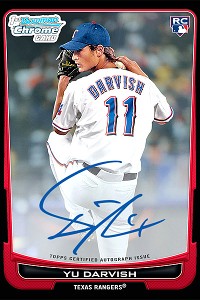 ToppsYu Darvish signed a deal with Topps for his autographed card.
Topps.
The Japanese pitching star signed an exclusive deal with Topps, and only the fully licensed maker of official MLB cards will have the right to produce autographed, game-used memorabilia, insert and standard cards of the new Rangers star.
His first autograph will arrive in 2012 Topps Tribute, which arrives later this week. Those cards will be redemptions (think Willy Wonka Golden Ticket) and limited to just 25 copies. He also will sign a total of 30 cards for 2012 Topps Museum Collection (arriving April 4) and 25 cards for Gypsy Queen (April 18) before his first rookie cards will arrive in 2012 Bowman on May 9.
According to Beckett, Darvish already appears on more than 130 cards produced in Japan along with a number of cards made by Topps in 2009 when he was a Team Japan star during the World Baseball Classic. In all, his previous cards are valued at $2,975 -- for those not too scarce to publish a reliable price range.
Darvish, who will appear on the cover of the April issue of Beckett Baseball magazine, is just 25 years old and went 18-6 last season for the Hokkaido Nippon Ham Fighters before signing a $60 million deal in January. In the last five seasons, Darvish compiled a 76-28 record with a 1.72 ERA, striking out 1,083 batters in 1,024-plus innings.