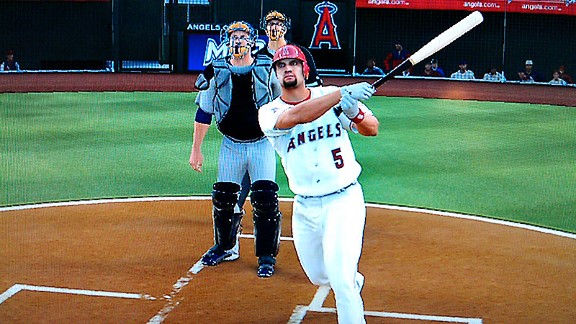 MLB 12 The Show MLB 12 The Show contains even more realistic ball action -- like the spin off Albert Pujols' bat.
Each year, Sony Computer Entertainment America and San Diego Studio produces the best sports video game available and each year those developers find a way to make their game better. Tuesday's release of MLB 12 The Show will demonstrate this but even this franchise's most dedicated followers will immediately recognize they are seeing a game they've never seen before. Put away your previous versions of the MLB The Show series: For 2012, the bar has again been raised, and this time with vigor.
The game's programmers have completely replaced last year's code and thus changed the way the baseball behaves with what they call True Ball Physics, which uses actual math for a spinning baseball that ricochets off bases, the pitching rubber and other field surfaces. The spin of the baseball off the bat is now accurate with realistic RPMs and the ball gains or loses energy like a real baseball, resulting in more hit type varieties. Line drives rise or sink and infield chops quickly become difficult to handle. My friend John Totten and I have played countless The Show games over the years, so I asked him for his '12 version impressions after a day of heated, head-to-head competition.
"Hitting a hooking line drive just inside the left-field line was something I had never seen before, and introduced an element of the unknown that I do not recall experiencing often in previous games," he said. "The overspin/underspin of a groundball based on the level of contact was an excellent added subtlety. I was surprised when a groundball did not make it through the infield, especially up the middle. Those balls simply lost pace due to underspin, as they should have. Line drives to the outfield showed tail and hook. In the past, every line drive to the outfield stayed on the same trajectory."
Trust me when I say this; Given the way the ball now spins in MLB 12 The Show, you will value the defensive abilities of your fielders as never before. Outfield defense was especially adventurous and fielding line drives or chasing balls in the gaps and down the lines is more challenging.