Scott Steinberg is the author of "The Modern Parent's Guide," a technology-themed parenting series, which will be free to download at www.parentsguidebooks.com/ when it is released March 13. This is an excerpt from the section of the book, titled "Everything I know about parenting, I learned from 'Madden NFL.'"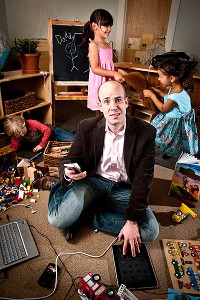 Scott SteinbergScott Steinberg, the author of "The Modern Parent's Guide."
Like countless sports fans worldwide, I boast a secret superhuman power, i.e. the Pavlovian ability to suddenly and inexplicably tune out reality when the game -- real, video or otherwise -- comes on. But as the author of "The Modern Parent's Guide" high-tech parenting series, I also get to exhibit these Herculean talents five times more often than the average male.
Still, as frequently explained to angry wife and upset kid (note: some names have been changed to protect the innocent), there are benefits to being "bad daddy," as the kiddo affectionately refers to my secret alter-ago. Case in point: The regular opportunity to study at the feet of the world's greatest father figure, John Madden, by way of "Madden NFL," his signature football game. Say what you will about Drs. Oz and Phil, or famed philosophers (philanderers?) like Benjamin Franklin. Well-publicized fear of planes aside, as much time as contemporary Dads have spent worshipping at his altar, trust me: The former NFL coach and broadcast legend has nonetheless taught more generations to fly.
Passing his lessons down to legions of virtual football-loving pops through plastic cartridges, CDs, DVDs and Blu-ray discs, don't be fooled by the title's increasingly glitzy graphics or fancy suite of multiplayer options. At its core lie the following life lessons, which every current or prospective parent can take to heart, or the living room big-screen, as the mood strikes.