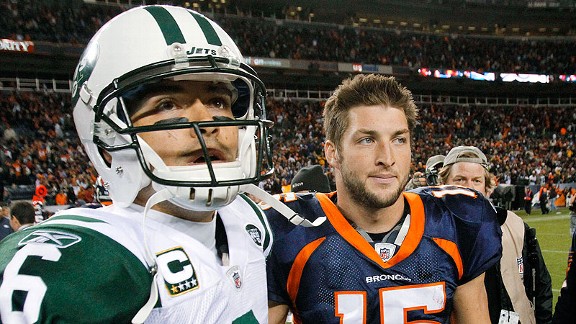 AP Photo/Barry GutierrezMark Sanchez could make a fine participant for "The Bachelor," since Tim Tebow isn't interested.
The upside of Tim Tebow declining to be the next center of attention on "The Bachelor" is that we'll dodge a nonstop media onslaught. In an election year, Tebow's decision is downright patriotic. America would have been too preoccupied with Tebow's stance on puppies and walks on the beach to bother learning where the candidates stand on various issues.
Now, the show must go on. If the show's producers still want an athlete to call the signals, meet our hunka, hunka burnin' wish list.
Ladies, shall we?
Mark Sanchez, N.Y. Jets quarterback
His rose: Has the looks of a magazine model; you can complain about him endlessly in public and he won't cause a scene. His thorn: You might have to double date with Matt Leinart.
Cam Newton, Carolina Panthers quarterback
His rose: He thinks he's Superman; he'll treat you like Superwoman. His thorn: His bad habit of putting a towel over his head after losses means you'll be doing a lot of laundry for the foreseeable future.
Dale Earnhardt Jr., NASCAR driver
His rose: Southern gentleman with Manhattan bank account. His thorn: His intimate nicknames for you will be dwarfed by the number of intimate nicknames he has for his cars.
Pau Gasol, L.A. Lakers forward
His rose: You'll live life in the Hollywood spotlight. His thorn: Until he's traded to Charlotte.
Logan Morrison, Miami Marlins left fielder
His rose: He's funny! Ladies like funny, right? Ha ha! His thorn: Any time you announce you want to go to sleep early, his 94,000 Twitter followers will know before your head hits the pillow.
Sebastian Janikowski, Oakland Raiders kicker
His rose: If you're a party gal, he's a party guy. His thorn: The episode where he invites contestants to give him the best foot rub will be the worst moment in "Bachelor" history.