Welcome back to another edition of Page 2 Jeopardy!, the quiz that tests your knowledge of sports, pop culture and assorted trivia. Please remember to phrase your responses in the form of a question.
(Correct questions at the end of the quiz.)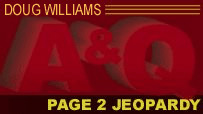 1. Answer: When he played for the Clippers, this former standout says he used to be heckled by team owner Donald Sterling, saying: "How do you play when the main heckler in the gym is the owner of the team and he's telling you how much he hates you?"
2. Answer: In the new movie "Goon," this actor -- who grew up in Minnesota but says "hockey was like someone speaking Japanese to me" -- plays a former bar bouncer who transforms into a tough guy on the ice to lead his semi-pro hockey team.
3. Answer: This former All-America guard, now a head coach, is taking his team to the NCAA men's basketball tournament, where it hasn't made an appearance since 1946.
4. Answer: This young All-Star closer is letting fans suggest intro music for him this season via Facebook, because he's not sold on last year's song "Dragula" and wants to see "what they can come up with."
5. Answer: This soccer star, who scored five goals in a Champions League game this week, once was called a "genius" by German legend Franz Beckenbauer, who added that he also is "a nice man, a gentleman."
Question 1: Who is Baron Davis?
Question 2: Who is Sean William Scott?
Question 3: Who is Harvard's Tommy Amaker?
Question 4: Who is Jordan Walden?
Question 5: Who is Lionel Messi?