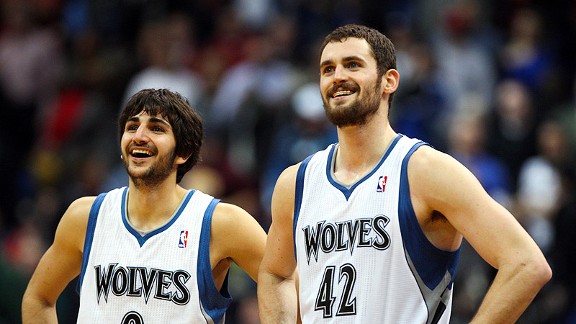 Brace Hemmelgarn/US PresswireRicky Rubio and Kevin Love might be the best PG-PF combo ever ... in the history of Twitter.
Timberwolves guard Ricky Rubio and forward Kevin Love are in the infancy stage of challenging former Jazz guard John Stockton and forward Karl Malone as the best point guard/power forward duo in the NBA history.
While a reputation of that magnitude will take years to achieve, Rubio and Love may already be the best point guard/power forward duo on Twitter -- primarily because they're one of very few pairs actually on Twitter. Their bromance is probably unmatched by any NBA tandem, and rivals some of the historically great bromances: Biggie Smalls and Puff Daddy, Vinny and Pauly D from "Jersey Shore," Brian and Stewie from "Family Guy," Kirk and Spock from "Star Trek," Joey and Chandler from "Friends," and of course, Jerry and George from "Seinfeld."
In honor of bromances worldwide, Page 2 presents @kevinlove and @RickyRubio9 displaying their friendship on Twitter:
• Rubio practices English with Love
• Love compliments Rubio on his ability to accessorize
• Rubio admires artwork of Love
• Love plays wingman for Rubio
• Rubio shares beauty secrets with Love
@kevinlove, Spread Love ... The World As We Know It ...
@rickyrubio9, Ricky Rubio, 21 de Octubre de 1990, El Masnou