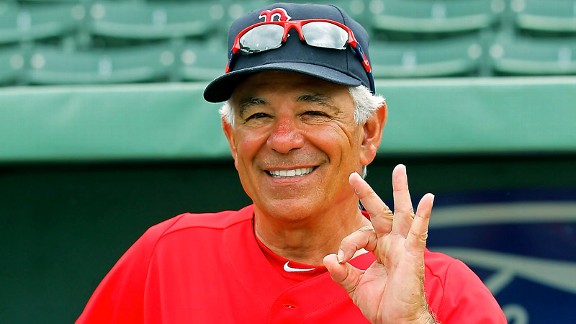 J. Meric/Getty ImagesBobby Valentine has dance floor style -- both now and back in 1964.
There's a fun bit of info in the Boston Red Sox media guide this year: A certain Bobby Valentine took part in the opening ceremonies of the 1964 New York World's Fair.
Now, per Gordon Edes of ESPNBoston.com, we have the story behind Valentine's performance:
"I did the Viennese waltz in the New York State Pavilion to the song, Moon River,'' said Valentine, who would have been 13 at the time. "All day long.''
He couldn't remember how that came about. He thinks it may have come as a result of winning a dance competition at the Waldorf-Astoria.
Of course, this isn't a huge surprise, considering Valentine is a noted ballroom dancer who, while managing overseas, danced in a music video of the Japanese band Deen and later took his cha-cha to the stage: