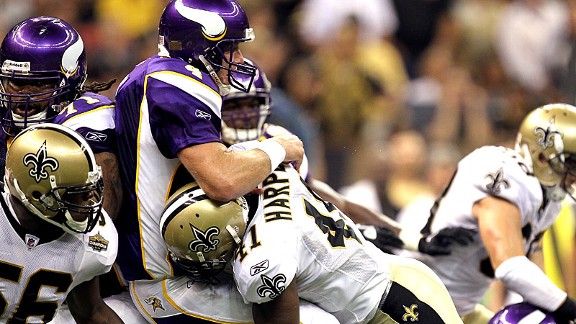 Ronald Martinez/Getty ImagesWe have an idea how much it cost to crush Brett Favre, but what about others?
Nobody asked, but …
Looks like there will be a lot of losers when the NFL dishes out punishment to members of the New Orleans Saints for three seasons of a bounty program designed to reward, among other things, knocking opposing players out of the game. But there is one person who has already benefited from the public exposure of the practice.
Yes, our main man Brett Favre. The Saints pulverized Favre during the 2009 NFC Championship Game and we now are told there was a $10,000 bounty on his head (and his knees and his arms and his neck, etc.).
Favre's response last week? "It's football." That reminded a lot of us of why we once loved Favre before his final two-season tour of the NFL. No wonder nearly all of us, even including Betty White, would love to play pickup football with him and then drink some brewskies.
But what about all the quarterbacks that the Saints didn't go after? How would you feel to find out that when the Saints played you, there was a $75 bounty on your head? Or maybe a six-pack. Talk about humiliating.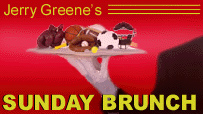 Imagine your name coming up in the Saints' locker room and somebody saying: "Don't hurt him! We want him in the game."
Which reminds us of poor Matt Moore and, dare we say it, poor Tim Tebow. How must it feel to be the incumbent starter on a team that is desperately trying to sign a quarterback who wasn't healthy enough to play last season? (Peyton Manning, not our man Favre.) And what happens on the team that doesn't get Manning? What does that team say? "Matt, baby, we always loved you!"
Sure.
Meanwhile, as our sports writing stars apply finishing garnishes to our literary Brunch, here are a few more moments to consider from the week that was:
• Is this worse than a bounty? Belgian soccer player Julien Lecomte was on a stretcher because of a collision that left him with a concussion and three displaced vertebrae. That's when the referee stood over him and whipped out a red card for flopping. Tough country, Belgium.