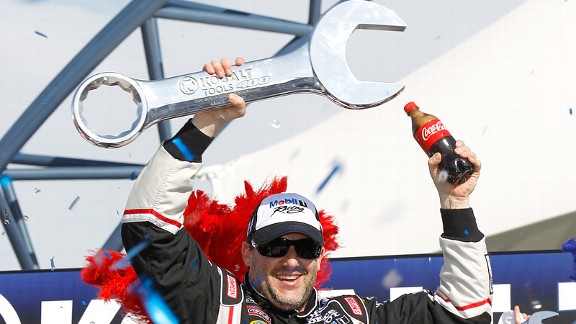 AP Photo/Isaac BrekkenAfter winning this trophy, Tony Stewart can fix anything -- or open that bottle if the cap's on too tight.
At Sunday's Kobalt Tools 400, Tony Stewart twisted off his 45th Sprint Cup victory -- but his first at Las Vegas Motor Speedway.
His reward? A trophy shaped like a combination wrench -- but oversized to the point that it looks bigger than most Chevy engines.
Good thing the prize wasn't an oversized pair of jumper cables. Yes, those are always good to have in the trunk for an emergency -- but they do no good at 70 mph on the interstate if you can't close the trunk.
For Stewart, winning a giant piece of car-fixin' equipment means Sprint Cup symbolism abounds. Last year, despite winning the Chase for the Cup, Stewart fired his crew chief, Darian Grubb. This is the first win with new crew chief Steve Addington.
So, all hail Tony Stewart's oversized combination wrench trophy. If his partnership with Addington ever starts to go south, it will hopefully serve as a reminder that they can fix anything.