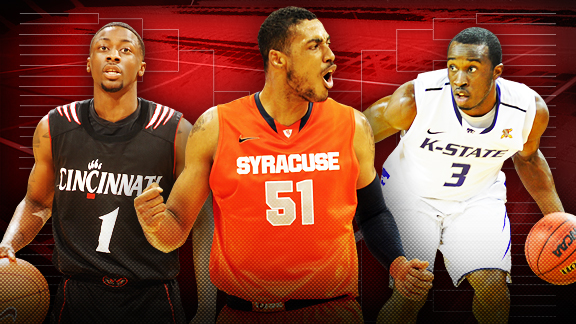 ESPN.com IllustrationCashmere Wright, Fab Melo and Martavious Irving are ready to roll in Page 2's Coolest Name bracket.
It's that wonderful time of year again.
Birds are chirping. Trees are budding. Brackets are blooming.
So as you're filling out your ESPN.com Tournament Challenge bracket, Page 2 offers a friendly reminder of another heated competition that takes place over the next three weeks.
The Coolest Name in the NCAA tournament bracket!
Beginning Tuesday, Page 2 asks readers to vote on our 64-player bracket, as we work our way toward selecting the athlete with the coolest name in this year's NCAA men's basketball tournament.
Here are your four No. 1 seeds:
• Fab Melo, Syracuse -- Dallas Comegys region
• Cashmere Wright, Cincinnati -- God Shammgod region
• Bak Bak, California -- Uwe Blab region
• Scoop Jardine, Syracuse -- Ruben Boumtje-Boumtje region
Who will inherit the throne from 2011 champion Bubba Day of Purdue? Be sure to cast your votes on Page 2 beginning Tuesday.