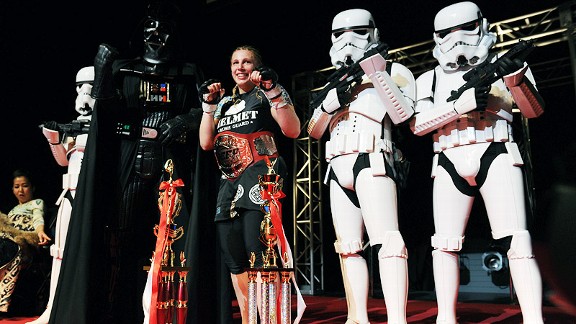 Etsuo Hara/Getty ImagesAmanda Lucas isn't using her father's success to propel her MMA career, but doesn't shy away from it.
At eight months old, Amanda Lucas could climb out of her crib with ease. Why stick around there when there was dancing to do?
"I literally have home video of me, and you can see me bouncing to the music playing in the background," Lucas said.
Of course, she didn't know at the time that her adoptive father, George Lucas, created the "Star Wars" franchise. But her -- dare we say -- Jedi path was already set. The daughter of a man Forbes just estimated to be worth $3.2 billion wouldn't settle for a life without purpose.
Lucas, now 30, has traded climbing out of a crib for a career that often involves climbing into a cage.
In February, the hip-hop dance instructor-turned-MMA fighter won the DEEP Openweight title in Tokyo. Her win was celebrated by Darth Vader and his storm troopers, who awaited her on stage.
The trip overseas also included promotional appearances for a "Star Wars" re-release. During a recent chat with Lucas, her concern about being seen as a sideshow as opposed to a serious fighter was almost constant.
And yet, that apprehension was belied by a post-fight photo showing her posing with the Empire's finest, title belt around her waist, seeming quite comfortable in the moment. After all, Lucas did enjoy bit parts in each of her dad's prequel flicks and grew up choreographing dance numbers for her and her friends.
"There's always been a kind of showmanship in me," she admits.