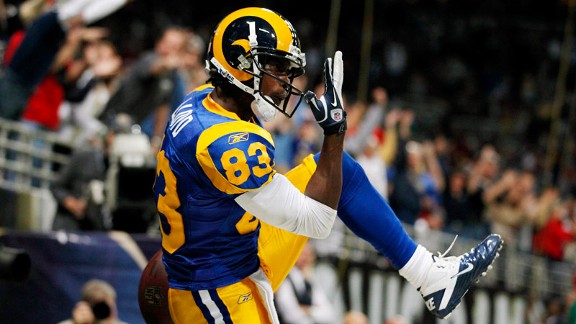 AP Photo/Jeff RobersonBrandon Lloyd hopes to add his "You Can't See Me" celebration to the "Madden 13" cover.
Can a video game predict the future?
The "Madden NFL" franchise has a long history of accurate simulations, including correct predictions on seven of the last nine Super Bowl winners.
So what happens when I plug free agent wide receiver Brandon Lloyd into the Patriots lineup for the upcoming season, a team Lloyd has not tried to hide his interest in?
Not only do the virtual Patriots end up winning the Super Bowl, but Lloyd scores 12 touchdowns and leads the league in yards per catch.
That's what happens when the receiver with the 99 spectacular-catch rating is teamed with Tom Brady, the quarterback with 95 throwing power and 97 accuracy.
"That's awesome," Lloyd says with a laugh when I tell him about my simulation. "When I was a kid, I would always create my own character in 'Madden' and I would put myself on different teams to see what I would look like and if I could envision myself playing on a specific team. But now, after hearing those stats, maybe 'Madden' could convince me playing on a specific team.
"It would also be interesting to see how I do with Cam Newton. Put me on the Panthers and see how I do in the simulation."
Jackpot.
Teaming B-Lloyd with Cam Newton turns into career highs in receiving yards (1,486) and touchdowns (14) for Lloyd as they help Carolina to the wild card.
"You might be on to something with these simulations," says Lloyd. "It's pretty fun to see what might happen."