Indiana and Peyton Manning have been as intertwined as Jim Gaffigan and Hot Pockets jokes.
So when the state's beloved QB was released by the Colts, Page 2 turned to the Prince of Pale himself to get Gaffigan's take on his home state's mood. The northwest Indiana native took a break from editing his new comedy special, which will be available as a $5 download on April 11, to talk football.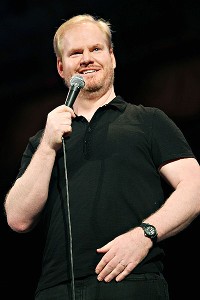 Astrid Stawiarz/Getty ImagesJim Gaffigan reflects wistfully upon the end of the Peyton Manning era in Indianapolis.
"Growing up in Indiana, all I wanted to do was get out of there. Sure, there was [David] Letterman and there was [John] Mellencamp. ... But when I came to New York, I realize how truly Midwestern I was," Gaffigan said. "As the Colts started getting better, it started getting exciting. There was [Indiana University], there was Purdue, but there was nothing statewide. There was just something that was really exciting about it."
One of the hardest-working comedians in the business, Gaffigan even found himself performing for the team before its two recent Super Bowl appearances, along with Mellencamp, a sort of "Indianafest."
"I feel like Peyton Manning was such a great representative for what I liked about Indiana. He has a certain civility, a modesty," Gaffigan said. "I really feel like he's the last hero. We know he's not going to wake up with a hooker. We know that he's not going to do something real nasty. I don't think that Eli's going to do anything nasty. I think Archie did a good job."
Despite performing for the team, and even hanging with the owner during the Super Bowl in Indianapolis this year, Gaffigan laughed when asked if he felt any pressure to be on top of the news after Rob Lowe's infamous Manning tweet.
"I know this sounds strange coming from the guy that goes on stage and makes people laugh, but I'm not really crazy about attention. I mean, I'll whore myself to help promote that I'm doing my special online," Gaffigan said. "But I'm not interested in breaking news or anything like that. I have no desire to be in People Magazine."