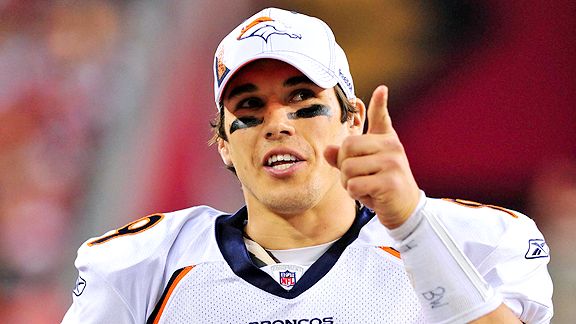 Chris Morrison/US PresswireIt's business time for Brady Quinn, other NFL players heading to Northwestern and Harvard.
When it's March, you expect to hear the phrase "student-athlete" a lot ... but for NCAA basketball, not pro football players who realize those NFL paychecks aren't going to last forever.
A 66-man roster of NFL players has signed up for business seminars at Harvard and Northwestern in the coming weeks.
Everyone involved must be taking this seriously, otherwise why wouldn't they have partnered with Donald Trump to film an "NFL Apprentice" series that would have brought in much higher ratings and revenue as a reality show?
The NFL has released a list of the participants (but with no indication of who's only taking these classes pass/fail). So if, someday, the likes of Charlie Batch, Byron Leftwich and Richie Incognito try to contact you on LinkedIn with a business proposal, at least hear them out.
Here's what we're wondering about the professors: Are they football fans themselves? Because if you saw Brady Quinn was one of your pupils, would you be more inclined or less inclined to have a class exercise as to how to sell more Tim Tebow jerseys?
Another thing we spotted: Two of the future entrepreneurs at the Kellogg School of Management will be Billy Cundiff and Lee Evans. Do you force those two to sit next to each other while breaking down charts of how much revenue they cost the Ravens and the city of Baltimore by screwing up the AFC title game?
Anyway, good luck to these players, who are looking for an edge in the real world when they're ready to work alongside the rest of us.
And good luck to the professor who might get tripped up during morning roll call between calling out "Bruce Gradkowski" and "Chris Gronkowski."