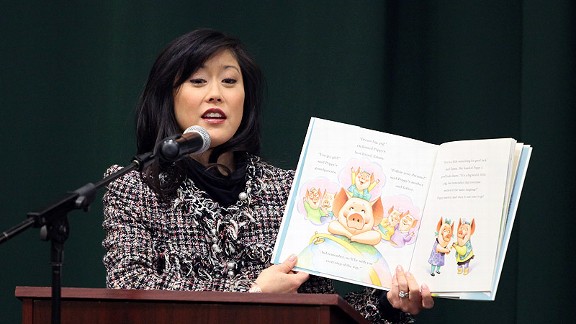 Taylor Hill/FilmMagic/Getty ImagesKristi Yamaguchi will read her book "It's a Big World, Little Pig" on Facebook on Wednesday.
To promote the recent release of her book "It's a Big World, Little Pig," Olympic great Kristi Yamaguchi will be reading a passage live on Facebook on at 7:30 p.m. Wednesday.
Viewers can ask Yamaguchi questions live or on the Tom's of Maine Facebook page prior to the chat. Yamaguchi is working with Tom's of Maine for its anticavity toothpaste, the only natural kids' toothpaste to earn the American Dental Association's seal of acceptance for cavity prevention.
Page 2 chased down Yamaguchi before the webcast for five questions.
Hey, Kristi, you've spent many years doing work to benefit children. What was the reason?
"I was inspired to start my own foundation after working closely with the Make A Wish Foundation. I saw a need out there and wanted to try to make a difference, have a positive impact on the lives of children."
How good were you growing up brushing your teeth, and what about your kids?
"Being that my dad is a dentist, I was pretty good at brushing my teeth. Now, my own girls are doing pretty well, too. They like to make Papa-San proud."
OK, this is going to be on Facebook. How big are you on social media?
"I am getting better at social media. I try to reach out to people on Twitter and am building up a following on Facebook, too. It's been fun to run some contests on my Facebook page. I try to answer every now and then, too. This is why I'm excited about the Tom's of Maine Story Hour this week. It's a way to connect with other parents and make kids' bedtime routine fun."
You are still recognized as an Olympic champion. What does that honor mean to you?
"It was an honor of a lifetime to represent the USA at the Olympics. I am grateful every day that the stars lined up for me and I was able to win the gold. Of course, I will always be humbled and proud of that accomplishment."
OK. You also are known for "Dancing with the Stars." What was that experience like and what advice would you give the two athletes this season?
"DWTS was a fantastic adventure. It was challenging, exhausting, fun and an amazing learning experience. My advice to the athletes is: pace yourself, listen to your partner and, most of all, don't take it too seriously. Have fun. It's DWTS -- not the Olympics!"
What is left on your bucket list?
"I want my Always Dream Foundation to be a leader in early childhood literacy across the country. I want to give as many children as possible the inspiration to have success in life by encouraging the love of books and reading early on in life."