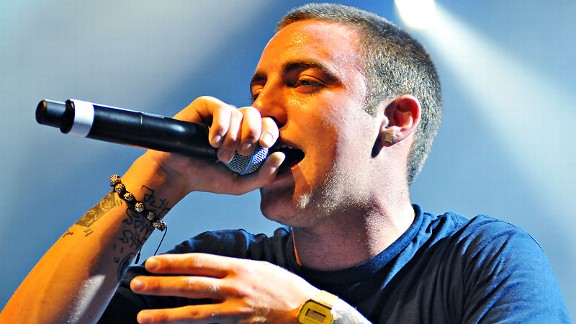 C Brandon/Getty ImagesMac Miller grew up playing basketball and still takes a hoop with him on tour.
Rapper Mac Miller has amassed more than 50 million YouTube views for his song "Donald Trump."
The song even earned the praise of Trump himself.
And Miller's first album, "Blue Side Park," released late last year, debuted at No. 1 on the U.S. Billboard 200 by selling 144,000 copies the first week. It made it the first independently-distributed debut album to hit No. 1 since Tha Dogg Pound's "Dogg Food" in 1995.
But here's something you don't know about the 20-year-old.
"I'm white and Jewish, so obviously I'm a three-point shooter," Miller said. "I'm like a young [John] Stockton."
The Pittsburgh native brings a hoop with him on tour, commonly setting up games in hotel parking lots or wherever he can find space. The games draw a mix of people and Miller's celebrity doesn't earn him any breaks.
"They definitely don't take it easy on me," he said by phone from a recent stop in Edmonton. "It's just my friends on tour with me. It's not people I hired or anything, so they don't take it easy."
The court may be a more familiar place than the stage for Miller. The Pittsburgh native grew up playing basketball, football, soccer and even lacrosse.