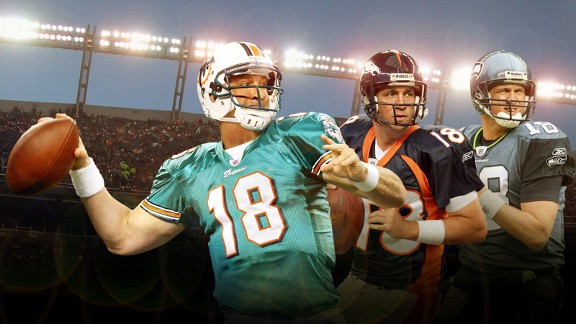 ESPN.com Illustration
Life doesn't always follow a road map. But sometimes when you're at a midway point -- like we are in the Peyton Manning Sweepstakes -- a March Madness-worthy bracket can provide perspective.
OPENING ROUND
1. DENVER BRONCOS vs. 8. WASHINGTON REDSKINS
Denver's brain trust of John Elway and John Fox provides more guidance and reassurance than Washington's salary-cap-improv-comedy tandem of Dan Snyder and Mike Shanahan.
4. SEATTLE SEAHAWKS vs. 5. MIAMI DOLPHINS
These franchises don't specialize in getting key free agents to elevate them to greatness; it's more like the faces are distinctive mile markers on the road to nowhere.
3. HOUSTON TEXANS vs. 6. TENNESSEE TITANS
Yes, Peyton Manning has an encyclopedic knowledge of the AFC South. But even the print version of the Encyclopedia Britannica gets CTRL+ALT+DELETE'd off the bookshelf eventually.
2. ARIZONA CARDINALS vs. 7. SAN FRANCISCO 49ERS
Sure, the NFC West is a wasteland, but Peyton will find it easier to crawl out of a desert of low expectations than to escape an Alcatraz of high expectations (and dealing with Randy Moss dropsies).
SEMIFINALS
1. DENVER BRONCOS vs. 5. MIAMI DOLPHINS
If Manning wins a Super Bowl for the Dolphins under only a one-year contract, would that make him the greatest QB in franchise history? This is the juncture, if Dan Marino is filling out this bracket, where he starts weeping.
2. ARIZONA CARDINALS vs. 6. TENNESSEE TITANS
Sorry, NFL. If Manning ever returns to the Volunteer state, it only will be to coach his alma mater until he beats Florida. After all, in 1997 The Swamp prepared Manning on how to throw a Super Bowl-clinching touchdown pass to Tracy Porter.
CHAMPIONSHIP
1. DENVER BRONCOS vs. 2. ARIZONA CARDINALS
If Denver can find a scientist to prove that audibles travel faster at higher elevations, the Broncos have this in the bag.