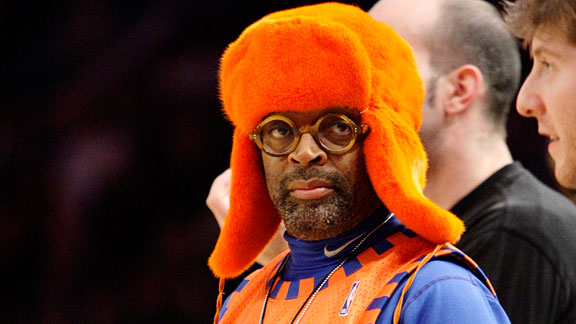 AP Photo/Mary AltafferSpike Lee's devotion might make him just the coach to lead the Knicks back among the NBA's elite.
Phil Jackson is not going to step in for Mike D'Antoni. But the Knicks do need a bold, new direction. Here are four head coach candidates they should consider.
Jim Boeheim -- Syracuse is likely not long for the NCAA tournament and Boeheim is the only man in basketball who has been able to coach Carmelo Anthony with any success. After a season of off-the-court problems at Syracuse, the dysfunctional Knicks might actually seem calm and relaxing to Boeheim.
Spike Lee -- No one loves the Knicks more than Spike Lee. He is rumored to have a day job, yet he obviously has time in his schedule to show up to every Knicks game. How cool would it be for the Knicks to be the first professional sports franchise to name its mascot head coach? James Dolan should at least bring Mr. Lee in for an interview and pick his brain. Maybe the Knicks' problems are just their shoes.
Jeremy Lin -- He is already on the Knicks' payroll and he is supposedly a genius. There isn't much to think through here. Jeremy Lin: player-coach. It definitely sounds better than "Mike Woodson: head coach." Or: "Isiah Thomas: anything."
Jeremy Lin's brother's couch -- Look at it. Firm. Stable. Yet also soft. It's exactly what the Knicks need right now in a head coach. And maybe Coach Couch can pull Anthony aside and say: "Hey, how about you sit on me for a few games and see if we improve." Hire the couch, Knicks. Hire the couch.