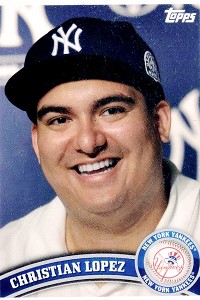 Courtesy of ToppsBaseball fan Christian Lopez, who caught Derek Jeter's ball, has his own trading card.
The New York Yankees fan who caught Derek Jeter's 3,000th hit ball but gave it back finally got himself a Topps baseball card.
And the funny part? He might have had an easier time catching the ball than it might be finding one of his cards.
Christian Lopez's Topps baseball card can be found in packs of 2012 Topps Opening Day, which arrived in stores last week -- and just four copies of the card have surfaced on eBay in that time. There's just one active aution right now, while copies of the card have sold for quite a bit more than the $1 packs they came from.
The highest price paid for the card was $59.99, while another went for $40 and the first to sell went for just $25.
One of the sellers reported finding just one copy of the card in four cases of the product -- that's more than 2,800 packs opened.