Have you been enjoying Dwight Howard's three-ring circus of flip-flopping?
Probably not. Hence the Orlando Magic star's lament on RealGM.com: "I apologize for this circus I have caused to the fans of our city."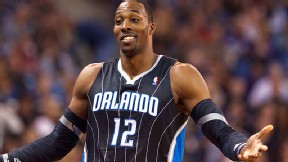 Jason O. Watson/US PresswireDwight Howard might've gotten some bad advice, he concedes.
(Although our favorite part of the Dwight Howard Circus has been Stan Van Gundy's anger as the elephant in the room.)
The important thing is that this carnival has given us a prime candidate for "2012 Understatement of the Year":
"I have gotten some bad advice," Howard said.
Dwight, if you were trying on a pair of Bad Idea Jeans, we'd have to point out they make your indecision look big. So we wish you would have been forever in debt to our priceless advice on the following subjects in the past week:
• Your NCAA bracket: You didn't go to college, so you don't have a sentimental favorite to pencil in. We would have told you to pick Syracuse to win it all, because distractions and player absences make the rest of the team focus harder for glory.
• Your NBA city: Don't know if your accountant pointed this out: Living in Florida means there's no state income tax. But as you continue living in the Sunshine State, maybe as a show of faith to your next destination, figure out how much income tax you'd owe there and donate that money to summer camps for underprivileged sports agents.
• Household hints: Sometimes a psychological edge can be more important than a physical edge. So excuse yourself from all shootarounds for the rest of the regular season and dedicate your time to using your Pinterest page to experiment with ways to redecorate the Magic's gym to make it feel more cozy for the playoffs.
• Post-basketball employment: Most ex-jocks either land a gig as a talking head analyst on television or a hand-shaking job in a basketball organization's front office. Your talents would be wasted in either field. There'll always be a home for you on Page 2 to write a life advice Q&A column.
Because bad advice is always better than no advice.