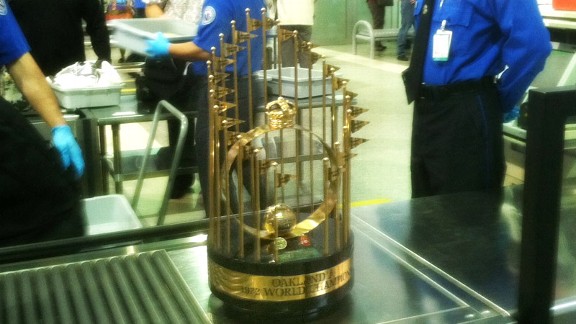 Oakland A's The Oakland A's 1972 World Series trophy has to go through airport security just like the rest of us.
Obviously, championships are precious in sports.
Some fans go their entire lives without seeing their favorite team win one.
So maybe it's not so crazy, as the Oakland A's celebrate the 40th anniversary of their first championship in the Bay Area, that the 1972 World Series trophy wasn't simply packed in the cargo bay during its flight from Northern California to Phoenix on Thursday. Nope, it got a seat all to itself.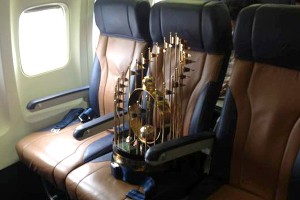 Oakland A'sIt's always nice to be able to stretch out on a flight.
The trophy was brought to Arizona to be displayed at Saturday afternoon's A's-Cubs exhibition game at Phoenix Municipal Stadium, one of the first events the team has planned to mark the anniversary. The trophy usually resides in the lobby of the club's business offices, alongside its siblings from 1973, '74 and '89.
Meantime, in homage to the mustachioed stars of the '72 team, the A's are also encouraging fans to submit pictures of themselves sporting mustaches -- real or fake -- to participate in the team's "Mustache Madness" bracket. The winner gets to go on the field prior to the A's game against the Indians on April 21 and will receive an autographed version of that night's promotional giveaway, a Rollie Fingers bobblehead.
Perhaps best of all, the A's offer one of the most amazing ticket specials in all of sports -- $2 tickets for every Wednesday home game.