Welcome back to another edition of Page 2 Jeopardy!, the quiz that tests your knowledge of sports, pop culture and assorted trivia. Please remember to phrase your responses in the form of a question.
(Correct questions at the end of the quiz.)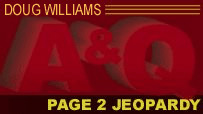 1. Answer: She's a star hurdler for Great Britain but has been labeled a "plastic Brit" by some and was challenged to sing "God Save the Queen" at a news conference because she was born and raised in Michigan (to a mother from Britain).
2. Answer: A Seattle Mariners TV commercial for the 2012 season features Ichiro Suzuki doing a (bad) imitation of this Oscar-winning actor.
3. Answer: Lindsey Vonn just won her fourth World Cup skiing championship to become the most successful U.S. World Cup skier, surpassing this American male, who won three World Cup season titles.
4. Answer: A cash-strapped Little League in the Los Angeles area has received a $1,200 donation from this business that will help keep it operating this season.
5. Answer: Former South Korean soccer captain and current Man U midfielder Park Ji-sung, who drinks this fluid to increase stamina, is being asked to denounce this practice by an animal-protection group in his home country.
Question 1: Who is Tiffany Porter?
Question 2: Who is Sean Connery?
Question 3: Who is Phil Mahre?
Question 4: What is a strip club?
Question 5: What is frog juice?