It takes two to tango, sure, but also to drive sales for a sports card product.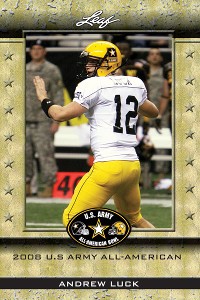 Courtesy of Leaf Trading Cards Andrew Luck and Robert Griffin III will be jockeying for touchdowns and trading card sales.
You had Sam Bradford and Tim Tebow in 2010 and Mark Sanchez and Matt Stafford in 2009, all the way back to Peyton Manning and Ryan Leaf in 1998, a then-profitable one-two punch that rivaled any in football card history.
Since that's the case, card manufacturers must be thanking the heavens, then, for Robert Griffin III.
The 2011 Heisman Trophy winner who led Baylor to its first bowl victory in 20 years is the perfect card-collectible complement to former Stanford quarterback Andrew Luck, a "high-risk, high-reward" investment to counteract the expected steady growth of Luck's cards.
Both have proved their mettle. And their metal.
The duo made its cardboard debut last week with the release of 2012 Leaf Metal Draft football and early returns have been promising.
Luck's non-autographed rookie cards -- the prohibitive No. 1 pick signed an exlusive deal with Press Pass, prohibiting him signing for Leaf -- have sold well this week, with his Prismatic parallel rookie card, limited to 99 copies, averaging roughly $120 a sale. Griffin is proving even more lucrative, though his cards feature on-card autographs, as a Blue Prismatic parallel autograph rookie card sold for $465.