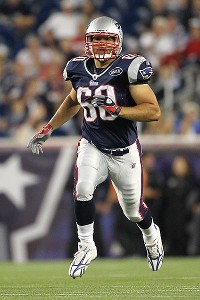 Jim Rogash/Getty ImagesFormer Patriots lineman Rich Ohrnberger is awesome on Twitter.
Richard Paul Ohrnberger is an NFL free agent. Ohrnberger was drafted in 2009 and has played in only a handful of games during his NFL career with the New England Patriots, so he hasn't drawn nearly as much attention as Peyton Manning this off-season.
However, if we're judging free agents based solely on social media entertainment value, Ohrnberger may be the top guy on the board. Granted, he has only 100 tweets since joining Twitter last football season, but he makes them count. And, quite frankly, he doesn't jam up your feed with monotonous tweets. That's a win in itself.
On this #followfriday, in honor of 2012 free agents not named Manning, check out @Ohrnberger's most outstanding tweets:
• Providing a spiritual alternative to reading the Bible
• Offering advice based on observation
@ohrnberger, former OL for the New England Patriots, and the Penn State Nittany Lions. … Now gainfully unemployed/full-time tweeter/part-time nude model.