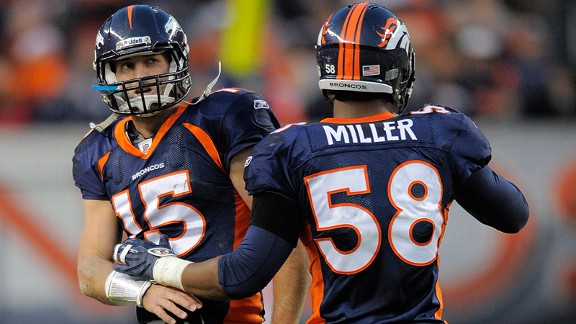 AP Photo/Jack DempseyTeammates Tim Tebow and Von Miller are having quite the battle in the Madden cover vote.
The fans get to the vote for the "Madden" cover athlete again this year, which obviously makes Tim Tebow the early frontrunner. In fact, a Vegas website listed him the favorite out of 64 entrants with 5/1 odds.
But, believe it or not, he's getting some stiff competition from a teammate in the early going.
With less than a week before the field cuts from 64 to 32 -- one player from each team -- Tebow holds a slight lead over Broncos linebacker Von Miller. The Broncos' matchup has received more votes than any other matchup, which tells us there are plenty of folks out there explicitly voting against the polarizing quarterback.
You can vote on the SportsNation Facebook page until March 21, when the round of 32 begins. The winner will be declared on April 25.
Here are some other ongoing storylines from the early rounds of voting, courtesy of SportsNation:
• Star rookie Cam Newton leads the voting right now.
• Last year's runner-up, Michael Vick, is trailing LeSean McCoy with only one week left in the play-in round. Vick fans rallied around him last year but they better get moving if they want to see him advance this year.
• Rob Gronkowski made this video and now he's one of the top vote-getters in the competition. Other candidates, take note.
• Brandon Marshall leads Reggie Bush, but Marshall was traded to the Bears earlier this week. And Brandon Lloyd leads Chris Long in the Rams voting, but he's a free agent. Should either advance the Dolphins and Rams would not have a player rep in the Round of 32.