Stop crying. Nobody wants to hear it.
It's a sound that can be heard from coast to coast, a background whiny kind of noise. It's the sound of millions of brackets breaking apart. It's the sound of March Madness turning into March Maudlin. And we want you to move on -- immediately.
Here are some specific whinning that we don't want to hear:
• "I knew Duke was going to lose! But at the last second I played it safe for fear J.J. Redick would somehow show up and save the day!" -- Shut up.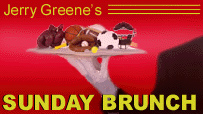 • "I never even heard of that stupid line violation rule!" -- Tough. Apparently UNC-Ashville and Notre Dame never heard of it either.
• "Oh well, my bracket is trash so let's talk about my plans for the 2012 NFL Fantasy Draft!" -- Walk away now or we will kill you.
How am I doing? Great! When I looked I was practically in the ESPN top 10, right behind the leaders at 245,304. OK, laugh, but I'm killing Rajon Rondo and LeBron James, so guess that proves who understands basketball. (Yes, I know what you're thinking: "Shut up!")
Quickly moving on, here are a few more bits of tid to chew from the week that was while our sports writing superchefs finish today's outstanding Brunch:
• So what did we learn from the Arena League strike? What? You missed it? It was in all of the papers, or at least, a few of the papers. Anyway, we learned some teams eat at the Olive Garden. What do you want to bet it's the soup and salad with bread sticks?