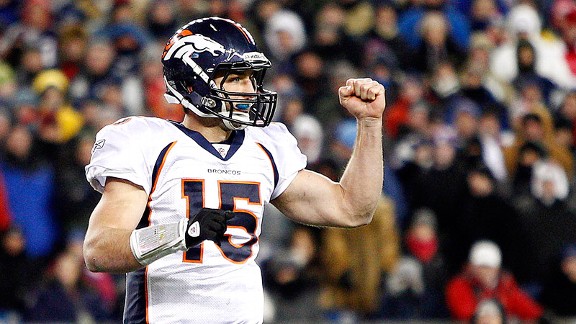 Mark L. Baer/US PresswireWhether or not your favorite team has a quarterback in place, Tebowmania is coming to your city!
Oh, Broncos. What have you done to us? What have you done to America?
In upgrading your quarterback position, you have made Tebow Time stronger than ever before, and now it is being unleashed again across the nation.
Before Peyton Manning picked the Broncos, Tebow was confined to Denver. Was Tebow coverage all over the Internet and your TV? Sure. But you could close your laptop and shut off your TV. True Tebowmania was far away amid the Rockies. Now he is on the trading block, and Tebow rumors will be coming to your town.
Jacksonville? Prepare for Tebowmania.
Miami? Tebowmania.
Cleveland? Tebowmania.
San Francisco? If Alex Smith leaves ... Tebowmania!
Even franchises set at quarterback, such as New England, will be seen as possible Tebow destinations on the slightest connections. JOSH MCDANIELS LOVES TEBOW AND OMG COULD HE BE BRADY'S HEIR AND ALSO RUN GOAL-LINE SETS?!?! IT'S GOING TO HAPPEN! TEBOW TO PATRIOTS!
Constant, 24-hour speculation of Tebow going to every NFL city in the country, save Denver, is on the way. In fact, it's already started.
Prepare now. Go. Go to the local grocery store. Buy canned goods. Bottled water. Duct tape.
And pray. You must pray. Tebow would want it that way, yes. But we also must pray that he is traded to Jacksonville. Only the Jaguars can save us. They are ignored almost as much as Tebow is covered. The balance might allow him, and us, to live normal lives.