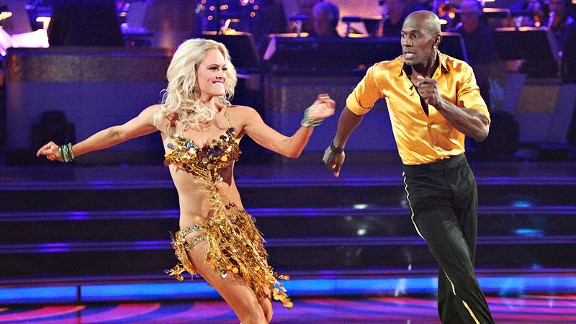 Adam Taylor/ABC/Getty ImagesDonald Driver and Peta Murgatroyd danced the Cha Cha on Monday's show but didn't score well.
The first night of ABC's "Dancing with the Stars" probably didn't go as planned for the two athletes, Donald Driver and Martina Navratilova.
Navratilova and partner Tony Dovolani danced the foxtrot stiffly and finished tied for the night's low score of 20 points (out of 30). Navratilova's friend, Chris Evert, was in the audience rooting her on.
" I am extremely shy and can get embarrassed easily," Navratilova said. "And dancing in front of millions was a huge challenge for me."
Driver and partner Peta Murgatroyd danced the Cha Cha, and the crowd gave them a standing ovation, but the judges were not as impressed. The duo scored 21 points, and that's when the crowd booed.
Judge Bruno Tonioli said that Driver looked like a rooster running around and that Driver needs "to refine it."
Driver's reaction: "It took me 13 seasons to win the Super Bowl, but I only have one shot at the mirrorball."
The leading scorers for the night were actor Jaleel "Urkel" White (26) and opera star Katherine Jenkins (26). Navratilova was joined at the bottom by Gavin DeGraw (20) and Melissa Gilbert (20).
The stars in the 14th season of the elimination dance show are safe for this week, as the first exit will be March 27.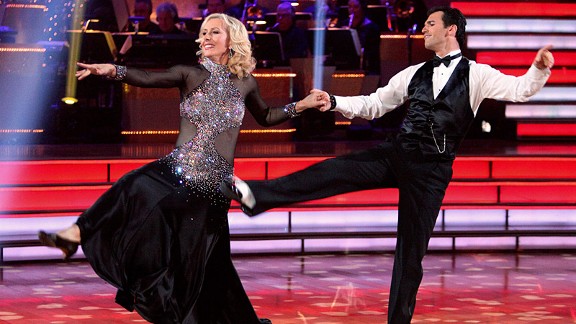 Adam Taylor/ABC/Getty ImagesMartina Navratilova, with Tony Dovolani, loved dressing up but looked stiff on the floor.