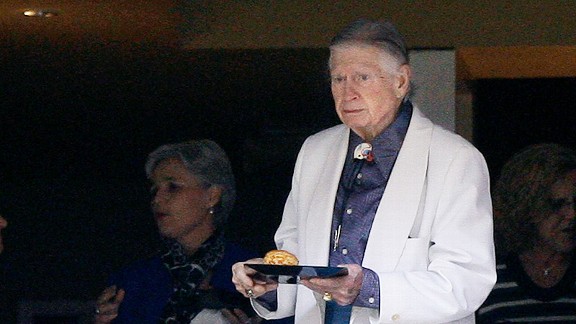 Bob Levey/Getty ImagesMaybe Titans owner Bud Adams had
too much
to offer Denver-bound Peyton Manning.
Bud Adams, the 89-year-old owner of the Tennessee Titans, has seen a lot of things go right for him in his lifetime.
Not this time, though. Adams didn't win the Peyton Manning sweepstakes, even though he tried to woo the state's beloved Volunteer with a tenure offer most of Manning's old professors would trade their Knoxville tailgating spot for:
"I was going to pay him to be with us until he was ready to be buried," Adams told The (Nashville) Tennessean.
Uh, Bud, no one's ever "ready" to be buried. Given the choice, I'm sure 99.999 percent of us will say, "Bury me? Not ready quite this minute. I've still got Tebow's overtime game against the Steelers waiting on my DVR."
Here are some reasons I'm betting the "Titan For Life" gambit backfired:
• Adams didn't have to play the "you'll be financially secure for life" card. I'm confident Manning can afford one of Del Boca Vista's upscale units.
• Manning was worried Adams would want to lock the offer not just with contract signatures but by inking matching Tupac-inspired "Titan Life" tattoos across their abs.
• Manning was worried he'd miss fine print that required him to play in an "NFL Seniors Tour" league Adams secretly has in the works. Hey, NFL old-timers: How'd you like to slip out of the nursing home and into your old pads to run some routes for Grampa Manning 20 or 30 years down the road? Well, maybe not running routes. You can pilot all-terrain Rascal scooters. But it still takes hand-eye coordination to catch the ball and steer with separate hands. And unlike those hits to the head you took in the '80s, this time the medical staff will know how to treat neck injuries and concussions. Unless you've already forgotten how many concussions you swallowed back in the day.
Finally, there's the ultimate irony: Manning missed out on a chance to be a Colt For Life and a Titan For Life to join a guy who's got the "Bronco For Life" thing working spectacularly.