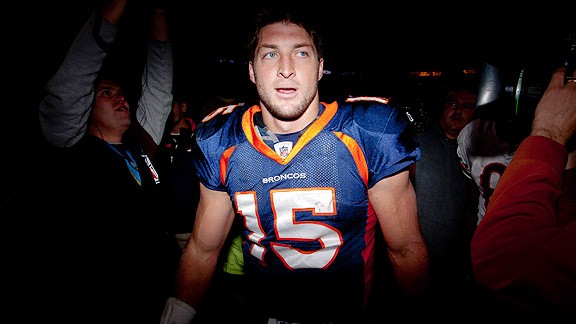 Justin Edmonds/Getty ImagesTim Tebow is clearly at a career crossroads. What better time for him to consider a switch to baseball?
The sports world is busy contemplating which teams will be interested in acquiring Tim Tebow.
Jacksonville? Miami? New England? Green Bay?
Such is life for the former Heisman Trophy quarterback who finds himself being unceremoniously shopped to the highest bidder after the Broncos successfully lured superstar Peyton Manning into the fold.
Amidst the speculation, one suitor is already aggressively pursuing the former Florida star -- the Lake Elsinore Storm, Class A affiliate of the San Diego Padres.
The Storm are prepared to offer two of their mascots, the Rally Cop and the Grounds Crew Gorilla, to the Broncos. Lake Elsinore is also willing to rename its ballpark Elway Stadium if Denver is willing to accept the offer.
Chris Jones, vice president and general manager of the Storm, told Page 2 it's unclear what position Tebow would play if the club is successful in acquiring him. Presumably, when a team can trade for an athlete of Tebow's caliber, it makes the deal and sorts out the details later.
"It's up for grabs right now," Jones said. "Maybe just help us with rallies at the end of games."
There is another issue in play, as well. The Storm won the California League championship last season, and although much of its roster will be new in 2012, one has to wonder whether the club is worried about upsetting team chemistry by bringing in Tebow.
"With the Padres and the success they have in being ranked the No. 1 system in all of baseball, it's likely his inspiration can help these younger kids bring us another championship," Jones said.
Of possible interest to Tebow is the fact that the Storm will present a Night of Fellowship promotion on July 13, during which the club will attempt to set the world record for the largest group of people Tebowing.
Sounds like a match made in heaven.