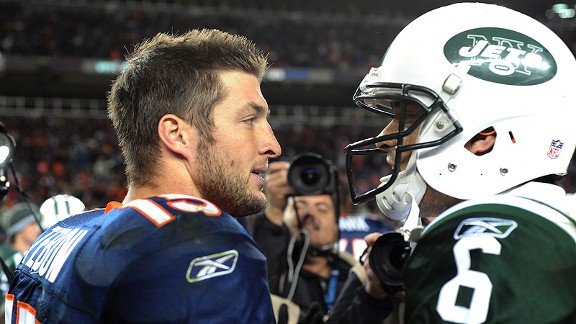 Garrett Ellwood/NBAE/Getty ImagesHe's been traded! Now Tim Tebow and Mark Sanchez might soon be starring on Broadway together.
Five reasons the New York Jets are the best fit for Tim Tebow:
1. Money: Tebow will make a fortune in New York. Madison Avenue provides many more opportunities than its Denver or Jacksonville equivalent. And that's only the tip of the iceberg. Just think if Tebow is smart enough to put a swear jar in the Jets' locker room. Rex Ryan will make Tebow a billionaire.
2. On-field performance: Everyone can see that Tebow doesn't look good when he throws the ball. The problem is that Tebow can't see himself throw the ball. Watching something on tape is different than seeing it live. But now Tebow can watch Mark Sanchez throw, instantly see the many problems going on there, and make sure he doesn't do any of the same. The two wrongs of Sanchise and Tebow can possible make a right. The Jets are counting on it.
3. Fame: "The Book of Mormon" opened on Broadway one year ago and packed the theatre while dominating the Tony Awards, proving religion can sell on stage. The musical was written by Colorado natives Trey Parker and Matt Stone. No doubt they have great insight into Tebow's Denver years. The "South Park" creators can call the Tebow musical whatever they want, but I humbly suggest they borrow the song "I Feel Pretty" from "West Side Story" for the scene about Sanchez.
4. Mission work: No need to provide specifics here, but it's no secret that the Jets are not exactly the paradigm of traditional moral values. They provide Tebow with a fertile mission field if he so chooses. And even if Tebow doesn't proselytize, the Jets will think twice about their sexual dalliances knowing there's someone in the locker room who has experience with a scalpel.
5. Revenge: No one is perfect. No one is without sin. Even Tim Tebow. So if one day he drives to the Meadowlands and -- ooops! -- happens to sideswipe Peyton Manning's little brother? Hey, accidents happen.