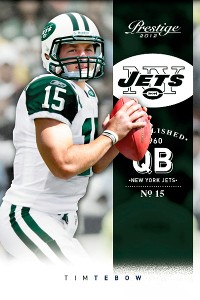 Courtesy of Panini AmericaThis could be in the 2012 Prestige Football trading card collection.
As the New York Jets pulled off a Tebow-like comeback Wednesday night, getting the quarterback who turned the Denver Broncos from an also-ran into a playoff team last season and became the NFL's most talked-about player -- for a fourth- and sixth-round draft pick, Panini America's prepress department was busy creating a possible trading card for Tim Tebow as part of the 2012 Prestige Football trading card, which will be released in May.
"I'm thankful they [Jets] stuck with me through this whole crazy process," Tebow said during a call late Wednesday night, repeating several times that he was "excited" to be a member of the Jets and to play for coach Rex Ryan.
This also will be an adjustment for Tebow as he returns to a backup role. He became one of the most popular athletes in the nation last season, replacing Kyle Orton and leading the Broncos -- seemingly dead after a 1-4 start -- to an 8-8 record and the AFC West title. He did it with a run of miraculous finishes, one more improbable than the next.