Welcome back to another edition of Page 2 Jeopardy!, the quiz that tests your knowledge of sports, pop culture and assorted trivia. Please remember to phrase your responses in the form of a question.
(Correct questions at the end of the quiz.)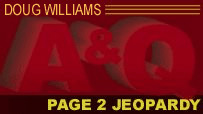 1. Answer: At 43, Laura Vikmanis was the NFL's oldest cheerleader last season, and has written a book about her experiences with this team's cheer group titled, "It's Not About the Pom-Poms."
2. Answer: This three-time all-conference academic team selection was a wide receiver his first two college seasons before switching to quarterback during his third season, where he is now considered by some to be a top-10 draft choice.
3. Answer: They are the only four major league baseball teams that do not have an official mascot.
4. Answer: This young NL outfielder, who was promoted to the majors last season from Double-A, writes "611" on his batting gloves as a motivational tool, reminding himself that he was the 611th player taken in the 2009 draft.
5. Answer: When Mike Napoli said he couldn't wait to hit a home run off former teammate C.J. Wilson, the pitcher responded this week with this "prank" that irked the Rangers catcher.
Question 1: Who are the Cincinnati Ben-Gals?
Question 2: Who is Texas A&M's Ryan Tannehill?
Question 3: Who are the Dodgers, Yankees, Cubs and Angels?
Question 4: Who is Houston's J.D. Martinez?
Question 5: What is tweeting Napoli's cell phone number?