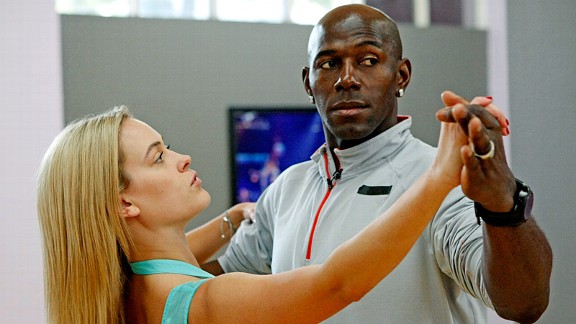 ABC/Rick RowellDonald Driver and Peta Murgatroyd need a good score to avoid "Dancing with the Stars" exit.
Donald Driver had the second-lowest total on the first week of ABC's "Dancing with the Stars," but he and partner Peta Murgatroyd aren't discouraged.
"It's actually kind of good we didn't get really high scores. That means people would be expecting that week in and week out," said Driver, who has played 12 years for the Green Bay Packers. "It'll keep our heads on straight and something we can build off."
On Monday night, Driver and Murgatroyd will perform the quickstep on the live show. The combination of this week's score, last week's and the public's votes will decide who gets eliminated on the 14th season of the dance show.
Last week, singer Katherine Jenkins and actor Jaleel "Urkel" White led the way of 12 contestants with 26 points out of 30, while Driver had 21 and the other athlete on the show -- tennis great Martina Navratilova -- had the low score of 20.
"We thought we were going to get higher scores by hearing the crowd. The way they were going crazy, we thought we'd get 8s and 9s," Driver said. "It was something special to see them give us a standing ovation, and they told us that it was the first time ever on the first show of a season. But that's not the way it worked out. We can keep getting better."
And Driver said he'll be slowing it down and showing something new on Monday.
"Last week, the cha-cha was all about being sexy, but not this week," Driver said. "The quickstep is something totally different. It's time to bring the gentleman out."
To follow Driver's moves, check out his feed on Twitter.