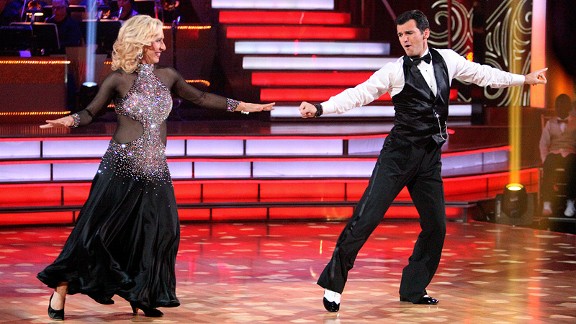 Adam Taylor/ABC/Getty ImagesMartina Navratilova is glad she won't be wearing a long dress during this week's "Dancing."
Martina Navratilova is glad that the first week is over on ABC's "Dancing with the Stars."
"I'm just happy I won't be in that long dress anymore!" said Navratilova, who is considered the great female tennis player of all time. "It's not often I dress up like that. And not this week!"
Navratilova and partner Tony Dovolani will be back on the floor Monday night, this time dancing the jive. The duo were at the bottom of the first week's scores, and the combination of that with Monday's scores and fans' voting will decide who will go home on Tuesday. Navratilova joins Green Bay Packers receiver Donald Driver as the only athletes on the show this season.
"When people ask me whether I have done these dances before, the answer is always the same: No!" Navratilova said. "But I will say this is an amazing experience for me. I'm more comfortable in my skin. The feedback has been terrific."
Navratilova joined Season 14 of the top-rated dance show to promote her charity work with the American Association of Retired Persons. She is the health and fitness ambassador for AARP, whose mission is getting its members to lead active, healthy lives.
"I'm hoping the show encourages people to get out there and dance. They need to be brave like I am, laying it on the line. I'm doing something so foreign and new and risky," Navratilova said. "I could really embarrass myself. I don't want to look like a fool. But I'm showing a different side to me. I want people to get out of their routine and their rut."
Navratilova and Dovolani need to have a strong showing Monday to keep dancing. As the second-oldest member on the show (to the 67-year-old Gladys Knight), the 55-year-old Navratilova said she is feeling great.
"You're calling me as I'm getting a foot massage. But my body is fine," Navratilova said. "I did have to cut rehearsal short a few days ago because of my head. That's because my head was scrambled with all those dance moves!"
To follow Navratilova's moves, check her out on Twitter.