There are few things more important to Jason Richardson than his NCAA national championship ring, which he won as a freshman at Michigan State in 2000. Because he moves around so much, the ring has been kept at his uncle's house in Michigan for the past half-decade, along with his other basketball trophies and valuables.
Or so he thought.
Richardson, after putting together a new trophy case, asked his uncle for the ring last week to be put on display. His uncle didn't have the ring, saying he hadn't seen it since sending it to Michigan State for a repair several years ago. And when Richardson called the Michigan State athletics office, they didn't have it either -- they hadn't seen it in years.
Richardson then began to freak out.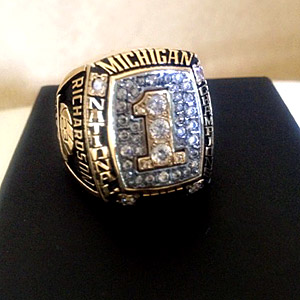 Courtesy of Jason RichardsonAfter lots of drama, Magic guard Jason Richardson finally has his (new) NCAA championship ring.
"I went on the Internet just to see what a Michigan State championship ring looked like, because I hadn't seen it in four or five years," Richardson told Page 2.
He stumbled onto a sports memorabilia website.
"I see the ring, and I thought, 'Oh, wow, they have a complete picture and replica of my ring,'" he said. "Then I see one side of the ring says, 'Richardson, 23.' I thought, 'Oh, wow, they even have my name on it.' And then I scrolled down further and it says you can have this ring for $7,500! I was like, 'How the hell they get my ring?'"
It's not unheard of for players to sell their old championship rings, especially after their playing careers are over and they can use the money. But this wasn't the case with Richardson, whose earned more than $80 million in salary throughout his NBA career -- he said he wouldn't sell the ring no matter what happened.
"I call the guy up and say I'm checking in on the Jason Richardson championship ring, and he said they've received a few calls on that," Richardson said. "So I say, 'Uh, yeah, this is Jason Richardson. And that's my ring. That ring was stolen."
The man at the store wouldn't tell Richardson how he acquired the ring. And Richardson, in the midst of a playoff race with the Orlando Magic, didn't have time to file police reports and chase the trail of the ring since it left Michigan State years ago. So he came up with the easiest solution.
"I called Michigan State and told them about the ring, and they thought if we just get another ring made, then that other ring has no value," Richardson said. "They called the company and had a new ring made, meaning the ring at the memorabilia store now has no value."
And Richardson's new ring, the second No. 23 Michigan State championship ring in the world, is now safely in Richardson's trophy case.