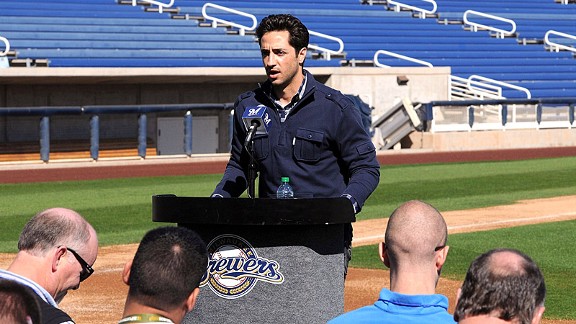 Norm Hall/Getty ImagesRyan Braun's explanation for his failed drug test is far from the wildest in sports history.
Milwaukee Brewers' star Ryan Braun will start in left field on Opening Day. As the reigning National League Most Valuable Player, Braun can take the occasion to thank God, country and family for his blessings as long as he keeps a little gratitude in reserve for baseball arbitrator Shyam Das, who registered the tie-breaking vote on Braun's appeal of a 50-game suspension stemming from an Oct. 1 positive drug test for elevated levels of testosterone. Braun didn't dispute the science of his positive test but contested the protocol and chain of custody involved in the handling of his urine sample.
Braun could well be innocent. His problem from a public relations standpoint is that he's just another in a long line of athletes claiming he did nothing wrong -- some more believably than others.
1. In 2005, American cyclist Tyler Hamilton offered a unique explanation after drug testing officials discovered evidence of blood doping. Hamilton said the different blood found mixed with his own could have come from a "vanishing twin" whom he had absorbed in utero. Thirty-four years earlier.
2. German runner Dieter Baumann, a former Olympic champ in the 5000 meters, tested positive for nandrolone. His two-year suspension cost him the 2000 Summer Olympics. Baumann voluntarily underwent further tests that showed fluctuating amounts of nandrolone in his system depending on the time of day. Baumann's explanation: the nandrolone was in his toothpaste, which obviously had been spiked.
3. Tennis star Petr Korda tested positive at Wimbledon in 1998, claiming the nandrolone in his system came from a veal entree. Some experts estimated he would've had to eat 40 calves a day for 20 years to account for the levels of nandrolone in his system.
4. Five North Korean soccer players tested positive for steroids at the Women's World Cup in 2011. The North Korean delegation claimed the steroids were unknowingly included with traditional Chinese medicines based on musk deer glands. Why were they taking medicines based on musk deer glands? The federation said the players needed them to recover from being struck by lightning during training.
• Read the full post at MentalFloss.com.